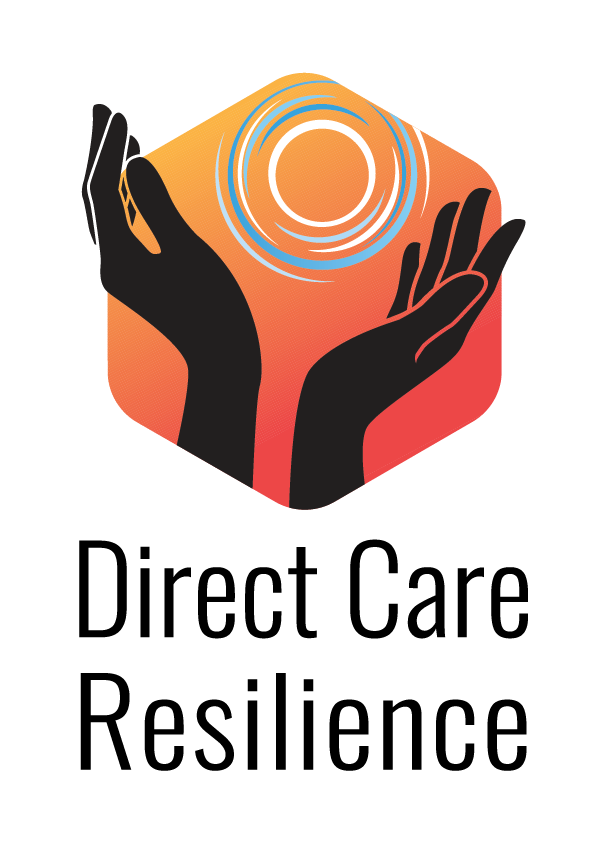 Direct Care Resilience ECHO®:
Aging and Assisted Living Organizations
Target Audience:
Aging Organization Leadership, Case Managers, and Supervisors.
CNAs, Caregivers, Nurses
Every Wednesday:
August 2, 2023 – October 18, 2023
11:00 am – 12:00 pm CST

ECHO Resources
View Participant Guide
Case Presentation
For more information, contact Krista Opstedal
krista.opstedal@minotstateu.edu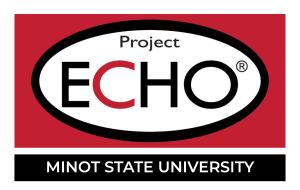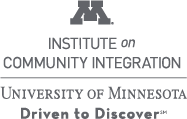 The Direct Care Resilience ECHO® is a training series to support the mental health and well-being of Direct Care Professionals. This project aims to expand disability and aging organizations' capacity to support employee mental health by 1) expanding disability agency leadership's capacity to support employee mental health, 2) building DSP resilience skills by increasing awareness of mental health self-care, and 3) providing resources to help sustain and strengthen the current workforce to limit staff turnover.
This two-part training series includes a framework where sessions are aimed at describing the principles of resilience, building interpersonal skills to address employee mental health and strategies for creating an organizational culture that values employee wellbeing. 
In this series, participants will:
Learn best practices from industry leaders
Collaborate and share resources/strategies to support organizational mental health culture
Join sessions online via Zoom
Earn social work CEUS and certificates of attendance
No cost to participants
What is ECHO®: Extension for Community Healthcare Outcomes (ECHO) is an interprofessional practice network where education and/or healthcare professionals learn together. Short didactic lectures and case presentations are conducted during recurring video conferences. Participants learn best practices to support the individuals they serve by implementing real-time solutions, improving systems, and removing barriers to care
This series is a collaboration between the North Dakota Center for Persons with Disabilities at Minot State and the Institute on Community Integration at the University of Minnesota.
Direct Care Resilience ECHO®: Aging and Assisted Living Organizations
Target Audience: Aging Organizational Leadership, Case Managers, Supervisors, CNAs, Caregivers, Nurses
Every Wednesday: August 2, 2023 – October 18, 2023
11:00 am – 12:00 pm CST
Session Title
Date
Session 1: Intro to Resilience
Burnout is rarely an individual issue alone. This presentation will discuss risks related to caretaker/provider health during times of crises as well as models for both individual and organizational wellness.

As a result of attending, participants will be able to:
- Differentiate between 'burnout' and 'stress'
- Identify tools for resilience for care providers
- Identify traits of resilient communities and organizations

Speaker: Krista Opstedal
Krista Opstedal started her career as a Direct Support Professional, working with people with disabilities. Her hands-on experience in various roles as the Coordinator of Assistive Technology and Project ECHO Director has allowed her to understand the challenges and aspirations of those she serves. Krista is currently an MPA candidate the University of North Dakota's Nistler College of Business & Public Administration where she focuses her academic work on the inclusion of mental health practices at the organizational level.
August 2, 2023
11:00 am - 12:00 pm CST
Session 2: How to Create an Inclusive and Welcoming Workplace
Employees who feel respected and connected to their workplace create a stronger sense of community, drive innovation, and help organizations thrive.

As a result of attending, participants will be able to:
- Define inclusion and its importance in the workplace
- Discuss how a shared language can boost inclusion and communication with an emphasis on
BRAVE spaces
- Define cultural humility and how the practice can benefit workplace wellness and foster
welcoming environments

Speaker: Dr. Lydia Ocasio-Stoutenburg
As a researcher in special education, Lydia Ocasio-Stoutenburg employs qualitative inquiry, using ethnographic approaches to center the voices and opportunities for children and their caregivers at the intersection of racialized, disabled and other historically marginalized identities.
August 9, 2023
11:00 am - 12:00 pm CST
Session 3: Eight Dimensions of Whole Person Wellness
Wellness is a broad concept. This session will cover
the eight dimensions that lead to overall wellness
and how each dimension is interconnected and
builds on one another.

As a result of attending, participants will be able to:
- Identify strategies and resources to build
up each dimension of wellness.
- Explore how to put these practices into
action.

Speaker: Paul Brekke
August 16, 2023
11:00 am - 12:00 pm CST
Session 4: Building Inclusive Workplaces: LGBTQ2+ Community
Research shows that diverse organizations have greater innovation, higher revenue, and employee satisfaction rates than less diverse organizations. However, hiring a diverse workforce for the sake of diversity will not drive these outcomes without a culture of inclusion that welcomes people to bring their authentic selves to the workplace. This session will focus on effective strategies to ensure that employees from the LGBTQ2+ community are valued and empowered to provide support to the people we serve.

As a result of attending, participants will be able to:
- Discuss the positive impacts when employees feel comfortable bringing their full selves to work
- Review current terminology
- Explore effective practices to build a culture of inclusion in the workplace

Speaker: Jessica Reiswig
Jessica Reiswig, is a research associate at the North Dakota Centers for Persons with Disabilities, who has committed herself to promoting inclusive work environments. Recognizing the impact of workplace diversity, Jessica advocates for acknowledging and celebrating diverse identities and perspectives. Her aim is to establish an environment where every individual feels accepted and empowered to authentically express themselves.

Jessica is prepared to share insights into embracing LGBTQ+ diversity. Her strategies offer a pathway to fostering workplaces that honor and respect the voices of each individual.

August 23, 2023
11:00 am - 12:00 pm CST
Session 5: First Support to Employees Showing Signs of Stress, Burnout, or Mental Health Distress
Supervisors are often the first support for employees experiencing stress, burnout, or mental health distress. This session will discuss how to have difficult conversations around burnout, compassion fatigue, and mental health.

As a result of attending, participants will be able to:
- Recognize signs of stress and burnout in employees.
- Discuss proactive strategies to mitigate and prevent burnout.
- Explore strategies to build employee engagement.


Speakers: Barb Kleist and Susan O'Nell
Barbara Kleist, MEd, JD, FAAIDD is the program director for entrepreneurial and development programs at the University of Minnesota's Institute on Community Integration. Her work focuses on state and federal projects to improve community services for children and adults with intellectual and developmental disabilities and their families. Current projects include leading training and technical assistance efforts in federal and state policy development focused on identifying best practices for improving direct support workforce stability across LTSS and Medicaid funded systems.

Susan O'Nell spent the first part of her career as a peer mentor and trainer, a frontline supervisor, and helped develop self-managed teams. Since coming to ICI in 1995, O'Nell has used her experiences to support person-centered system change in organizations and communities, primarily through customized development and delivery of high-quality training and technical assistance.

August 30, 2023
11:00 am - 12:00 pm CST
Session 6: Authentic Leadership: Strategies for Organizational Communication

Effective, open, and honest communication is a key skill for organizations to succeed. This session will discuss leadership communication styles and strategies for building emotional communication competencies to support employee mental health.

As a result of attending, participants will be able to:
- Discuss best practices for effective
communication to strengthen relationships
and teamwork.
- Explore tips for authentic, honest, and
empathetic discussions.


Speaker: Dr. Linda Cresap

Dr. Cresap is the Director of the Master of Science in Sports Management program at Minot State University. She teaches classes in Leadership Communications, Organizational Collaboration, and Business Communication. She also coordinates the Prior Learning Assessment program in the College of Business. Dr. Cresap is a peer reviewer for the Higher Learning Commission (HLC) and the International Association of Collegiate Business Education (IACBE)

September 6, 2023
11:00 am - 12:00 pm CST
Session 7: Effects of Trauma

Trauma can show up in human service work, which can lead to employees showing symptoms of compassion fatigue, burnout, and vicarious traumatization. This session will explore the effects of trauma on the brain and strategies to build personal resilience to cope with trauma.

As a result of attending, participants will be able to:
- Define trauma and recognize how it shows up in human service work.
- Discuss strategies for preventing and recovering from a vicarious trauma-related crisis.
- Explore strategies to build personal resilience.



Speaker: Tamara Waters-Wheeler

Tamara Waters-Wheeler is an adjunct instructor at Minot State University in the School Psychology Graduate Program. Tamara specializes in trauma, social emotional interventions, behavior and assessing diverse students. She has been quoted in USA today (4/1/2005) and in "Facilitating Effective Communication in School Based Settings" by Jason A. Parkin. Tamara is heavily involved in the ND Association of School Psychologists, holding the President position, twice, as well as past president, and secretary. Tamara has also served as the President of the ND Council for Exceptional Children and as President of the Bismarck-Mandan Council for Exceptional Children. She is currently the President of the Mandan Delta Kappa Gamma.

September 13, 2023
11:00 am - 12:00 pm CST
Session 8: Coping with Stress

Direct Care Professionals, supervisors, and organizational leaders have diverse and challenging roles at work. This session will provide education and personal strategies to combat stress and burnout to live a life of optimal wellness.

As a result of attending, participants will be able to
- Identify self-care best practices for mitigating stress.
- Discuss how micronutrients are depleted by stress and how they can be supplemented.


Speaker: TBD


September 20, 2023
11:00 am - 12:00 pm CST
Session 9: Coping with Stress: Mindfulness

Mindfulness is being consciously present in what you're doing, while you're doing it. This session will provide education and personal strategies to incorporate mindfulness practices into daily life and how it can help combat stress.

As a result of attending, participants will be able to
- Identify mindfulness best practices for mitigating stress.
- Explore strategies for staying grounded.



Speaker: TBD


September 27, 2023
11:00 am - 12:00 pm CST