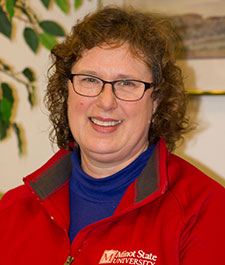 Dr. Garnes is the Associate Director of Development for the North Dakota Center for Persons with Disabilities (NDCPD) and Special Education Department faculty member. Dr. Garnes holds a Ph.D. in Special Education from Utah State University (2004). During her doctoral training, Dr. Garnes focused on teacher-preparation issues and distance education technologies, completing a dissertation on the effects of mentoring via email on the development of preservice special education teacher data-based decision-making skill.
Dr. Garnes has a bachelor of science in Elementary Education, Learning Disabilities, Behavior Disorders, and Intellectual Developmental Disabilities from Bowling Green State University in Ohio and a master of science in Severe Multiple Disabilities from Minot State University.
Dr. Garnes has prior experience in community settings with adults with developmental disabilities who are learning to live more independently. She has been with Minot State University since Fall 1996, initially as an adjunct lecturer and grant worker. In August 2000, she moved into a tenure track position in the Special Education department and has served as the Special Education Department chair.
Dr. Garnes' Vita (pdf document)
Contact Information:
Dr. Lori Garnes
Associate Director of Development
Minot State University
500 University Avenue West
Minot, ND 58707
(800)233-1737 or (701)858-3139